Remodeling Services
Are you ready to remodel an outdated room in your home? Is it time for a change of exterior or interior scenery? Do you need to upgrade your major appliances? Are you interested in selling your home and want to increase your resale value?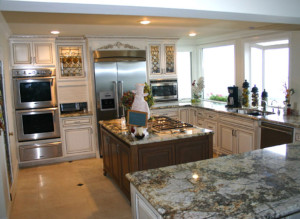 Whether you are remodeling for increased value, better functionality, or purely cosmetic reasons, Cal-Best Construction can provide excellent improvements for your kitchen, bath, bedroom, living room, or any other space in your home. You'll get excellent, high-quality workmanship from our team of industry professionals, and you'll save money. We will prepare a detailed project quote that will lay out exactly what we will do, how long it will take, and what the results will be according to your specific needs and budget.
Cal-Best is a licensed, bonded, and insured general contractor using only fully licensed and insured subcontractors. Using subcontractors for your remodeling project allows Cal-Best to reduce costs by keeping overhead low. We will personally supervise every aspect of your remodel, and since our subcontractors are paid per project, not hourly, they are highly motivated to get the job done quickly and not "camp out" on the work site.
Cal-Best has a flawless reputation with the Contractor State License Board (CSLB), and we aim to uphold our service record by creating a professional work environment that is respectful of your home.
We want to exceed your expectations with high-quality craftsmanship and excellent customer service from the beginning to the end of your remodel. Since many of our projects come from recommendations and referrals from past clients, our goal is to leave you more than satisfied with your home's improvements.
Photo Gallery for Remodels
Click on the images below to view before and after images of some of our remodeling projects.
Ready to talk about a remodel?
Contact us today to discuss your remodeling project. For immediate assistance, please call us at 714.630.1180. We look forward to speaking with you!