How to Identify Roof Damage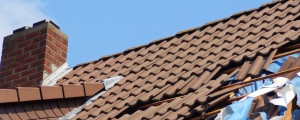 Over the past few years, it feels like Southern California has gotten nothing but sunshine. Our ongoing drought has politicians pulling out their hair and homeowners pulling out their lawns in favor of cacti.
The constant blue skies can be deceiving, however. Over time, wind, weather, and natural wear and tear can damage your home, especially your roof. And when that rain finally does show up, you'll find out if the recent Santa Ana winds left you with leaks that you didn't know about. If you're looking for some tips on how to identify roof damage, don't worry—you'll just need to spend some time looking around.
What to Look For Outside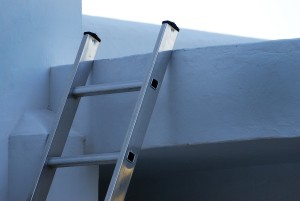 Visible damage to your roof on the outside of your home can come in a variety of forms, and responsible homeowners should check for signs of damage regularly. Water damage can cause spots or cracking paint, while wind damage might include anything from loose or broken gutters to missing shingles.
The best tool for outdoor roof inspection? A ladder. Even if you haven't had any roofing problems or experience before, looking over the roof yourself will make it easier to explain what the problem is to a professional contractor. Of course, if it's currently windy or raining outside, leave the inspection for a day with better weather.
If you suspect roof damage, these are common problems to look for (via DryHome.com):
Wood Shingles/Shakes: mold or decay, splitting, or curling
Composition Shingles: curling, loss of granulation, broken, damaged, or missing shingles
Roofing Cement: excess cement or crumbling
Soffits & Fascia: decay or stains
Soffit & Ridge Vents: Clogged or damaged vents, flashing, and shingles around them curling or missing
Flat Roof: Obvious patches, cracks, or tears, multiple blisters and/or wrinkles (also check patched areas from inside the attic)
Gutters: Decay or rust, leaky seams, loosely attached to structure, bent or sagging, missing sections of gutter or downspout, filled with debris. Clogged gutters can easily freeze shut and cause excessive weight on gutter fasteners, ice dam conditions, and slippery walks below.
Chimneys: Leaning, loose, or missing flashing, damaged bricks, cap or cracked joints. Chimney flashing is especially prone to tearing because a chimney settles independently from the house.
Flashing: Tears, buckling around roof penetrations
What to Look For Inside
Roof damage may not be obvious indoors, but the water and weather let in by a compromised roof creates signs of its own. Marks from moisture, including brown, yellow, or gray stains, can indicate a leaking roof. Peeling paint on walls or ceilings could also be a sign of damage.
Don't just rely on the ceilings you see every day—check out the walls and ceilings in your attic, where damp rafters or leaks could also point to roof damage. Also, if you experience a sudden surge in energy costs, it could be a sign that your roof ventilation or insulation has been damaged.
When In Doubt, Call a Professional
If you spot roof damage, or just suspect it, contact Cal-Best or call us at 714.630.1180. We will be able to perform a thorough inspection and present options to restore your home. We look forward to speaking with you!